United Abominations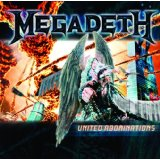 Carson gave this album on 2007-11-08.
Tweet
Follow @carsonfb
I purchased this album about a month ago, but have only started to appreciate it in the last couple of days. As the last Megadeth album that I bought was Cryptic Writings, the sound of this new album came as quite a shock to me.
Several of the tracks on the album sound much like their earlier works - think Peace Sells...But Who's Buying? era; among these tracks are "Sleepwalker", "United Abominations", and "You're Dead". As always, their music makes heavy use of imagery. For instance, "Blessed are the Dead" alludes to the Four Horsemen from the biblical book of Revelation. Also not lacking are Dave Mustaine's political views; while Megadeth has always been a political band, this aspect of the music really shows through on United Abominations in such songs as the title track - "United Abominations", "Washington is Next", and "Amerikhastan". If the listener still any has doubts about whether this album expresses strong political views, the cover art shows the U.N. building being destroyed by angelic beings.
Unfortunately, I do have a couple issues with the album. The remix of "À Tout Le Monde" is a pale comparison of the original from Youthanasia. Another downside, in my opinion, is that the album is lacking something due to the absence of Dave Ellefson's influence. I realize that Dave Mustaine is the driving force behind the band, but in many of the liner notes of their pre-breakup albums, Ellefson was credited with writing portions of the songs. United Abominations isn't necessarily bad due to his absence, but it is definitely different. Finally, I am not sure if Megadeth needed another anti-drug song; in my opinion, "Use the Man" is much better musically than "Burnt Ice" and there is only so much that a band can say about drug abuse.
In short, while United Abominations does have a few shortcomings, it is still a strong album overall and is definitely worth adding to your collection.
Copyright © 2018, Carson F. Ball
immense-note
immense-note